Whether you're traveling to Las Vegas with family or friends, it's great to explore what the outside of the city has to offer, rather than just spending your entire vacation inside of casinos. The activities in this article vary greatly, but they are all family-friendly. Because of this, there is something for everyone!
As a bonus, these activities also have a large price range. I have made sure to include many free options along with the paid options. So, there is something to fit every kind of budget.
These activities all take place entirely outside.
Some of these activities are free.
Many of these activities can be done solo or in a group.
Table of Contents
Dune Buggy Desert Rides
Flamingo Hotel Animal Habitat
Grand Canyon
High Roller Observation Wheel
Lake Mead
Lone Mountain Park
Siegfried and Roy's Secret Garden and Dolphin Habitat
Springs Preserve
Valley of Fire State Park
Wet 'n' Wild Water Park
1. Dune Buggy Desert Rides
Much of Las Vegas and the surrounding area is covered in a hot sandy desert. While this might seem kind of boring on its own, it has the potential to be really fun. One of the best ways to enjoy the deserts in and around Las Vegas is to rent a dune buggy and go for a ride! There is a variety of dune buggy and ATV rentals around the area, so you don't need to have your own vehicle to enjoy this attraction.
2. Flamingo Hotel Animal Habitat
If your family is staying at the famous Flamingo Hotel in Las Vegas, then it's only right that you check out the hotel's animal habitat (as it is free for people staying at the hotel). To match the name of the hotel, the animal habitat mostly houses flamingos. Although there are sometimes other types of birds kept there. The habitat is open from dawn to dusk. For a little extra excitement, try to visit the habitat at 8:30 am or 2:00 pm to see the animal caretakers feed the flamingos.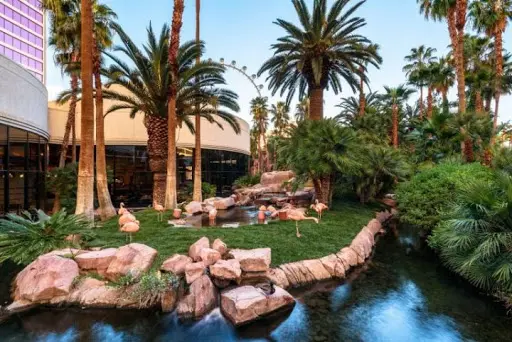 3. Grand Canyon
One of the United State's most beautiful natural wonders is the Grand Canyon. Did you know that the Grand Canyon is so long that it can be viewed in several different states? Because of this, Las Vegas is one of the many places you can view this natural wonder with your family. So, take a drive to this large gorge and make sure to take plenty of pictures while you are there!
4. High Roller Observation Wheel
The High Roller Observation Wheel doesn't have this name for no reason. This attraction is a giant Ferris wheel that is even higher than some of the surrounding buildings! For this reason, the top of the High Roller is one of the best places to get an excellent view of the entire city of Las Vegas. The cars on the Ferris wheel are also large enough that small families can fit in one at the same time.
5. Lake Mead
Most people know that Las Vegas is in a relatively hot and humid area of the United States. Even though much of the area is covered by barren desert, there are a few wet and cool places you can visit, including Lake Mead. This is a great free place to visit if you want to spend some time in the water. It's also the perfect place for a nice relaxing family picnic! You can also check out the Hoover Dam, which is 15 minutes away from Lake Mead.
6. Lone Mountain Park
As the name of the Lone Mountain Park implies, this park is a great place for hikers and mountain climbers to visit. There are a number of trails all with various degrees of difficulties for visitors to check out. For these reasons, this can be a great place for both families with young children or teenagers to visit. If your little ones cannot get move quickly, try out a flatter trail. If your family members are a little more adventurous, kick it up a notch by travelling on one of the more mountainous trails.
7. Siegfried and Roy's Secret Garden and Dolphin Habitat
If you belong to a family of animal lovers, then you'll sure to get a thrill out of visiting Siegfried and Roy's Secret Garden and Dolphin Habitat. As the name implies, visitors can see real dolphins. What the name doesn't imply is that there are loads of other animals to check out! Many of the other animals are large cats, including white tigers, lions, and leopards. If you are willing to pay a little extra, you can do special activities, including doing yoga with the dolphins.  
8. Springs Preserve
The Springs Preserve has both indoor and outdoor activities for families with children of all ages. The indoor portion of the preserve is mostly filled with museums that mostly cover the history of Nevada and its wildlife. Outside, visitors can see a variety of plants and animals. Some of these include cacti, flowers, birds, butterflies, and more.
9. Valley of Fire State Park
Another great state park to check out in Las Vegas in the Valley of Fire State Park. Like some of the other places already mentioned in this article, the Valley of Fire State Park has a number of trails that come in varying difficulty levels. What's more impressive about this park is the natural stonework that can be seen all over. These large stones are nearly as big as buildings and come in beautiful shades of red, orange, and brown. This place makes for the perfect background for any family portrait.
10. Wet 'n' Wild Water Park
If your family loves the water but is looking for someplace that is a little more adventurous than a beach, then you may want to check out the Wet 'n' Wild Water Park. This attraction is like any classic water park. It has over two dozen slides and other attractions. Kids can enjoy zipping down slides or playing in wave pools while the adults go on some of the higher speedy slides or lounge in a lazy river. So, as long as all of your family members can swim, this is a great place to visit if you're looking for a little bit of excitement and a lot of water.
Whether you're just passing through Las Vegas or if you are spending a whole week there, these outdoor activities are sure to keep you busy. So, whether you are looking to get out in nature, see the city from above, check out some animals, or zip down a water slide, you are sure to find something that you love in the great city of Las Vegas.
As an Amazon Associate, I earn from qualifying purchases.