From the hills of Kentucky to the valleys of Ohio, one timeless, simple and outrageously fun game stands out as the all-American backyard pastime. It is surging in popularity, and after a recent national tournament featured on ESPN, it is undeniably a real sport. 
Of course, I am referring to the one and only, Cornhole.
You, too, can get in on the fun at deck out your next BBQ, beach day, funfair or summer camp extravaganza with a beautifully entertaining cornhole set. You'll be on your way to getting a cornsizzle in no time. What's a cornsizzle, you ask? It's when you land four cornholes in a row – the best possible score in an inning. Check out the below-noted best corehole sets we recommend, and you'll catch on quick.
History of cornhole
There are competing claims to the sport's history. Some say cornhole emerged in the 19th century in Cincinnati, while others in Kentucky think they pitched the inaugural toss. Others say that Native Americans predated other players, using corn inside of dried out animal bladders instead of fabric.
There are also legends of a German cabinet maker who designed the boards when he took pity on young boys tossing rocks into a groundhog hole and riskily recovering them. So, yes, we might have a violent groundhog to thank for the joy of the sport.
Wherever the game originally came from, it is safe to assume that people have been tossing stuff into holes for a long time. The game of cornhole is a masterful evolution of tossing stuff mashed with the American spirit of competition and all the glory of epic summer barbeques.
Simple cornhole rules
So what is it exactly? It's SO SIMPLE.
Essentially 2 players take turns under-hand, tossing 4 corn-filled bags each into a hole cut out of a wooden frame from 27 feet (or more) away.
3 points for getting the bag in the hole.
1 for landing it on the frame.
Each round where both players toss all 4 bags is called an inning,
Players compete for as many innings as required to reach the winning score of 21.
That's it! Anyone can do it!
What to look for in a cornhole set
So you're sold. Simple, versatile, timeless American fun for all. All you need is a cornhole set with boards and tossing bags. There are a few things to keep in mind while buying.
Board Size
Regulation sized boards are 47.5 – 48 inches long, 23.5 – 24 inches wide (aka 2 x 4 feet), at least half an inch thick and made of plywood. The face of the board is 12 inches off the ground at the back and 3-4 inches off the ground at the front. The regulation size of the cornhole is 6 inches.
Smaller boards (often called tailgate boards) are 2 x 3 feet. These are great for portability and tailgate parties.
There are also a range of less precise practice boards and mini kid-sized sets. These are ideal for small spaces, little kids and tight budgets.
Board Materials
The American Cornhole Association requires that boards are made of plywood that is sanded smooth. If there is paint on the boards, it must be semi-gloss exterior latex paint, which has a similar glide as bare wood.
However, backyard sets are often made of PVC board, which is lighter and cheaper but has a bit too much bounce for the precise player. A range of designs, in all kinds of paint, are also available for the stylish. Paint type is likely only a concern for professional players.
Plastic boards and foldable boards made with a frame and fabric are not at all regulation but can still provide all kinds of portable, lightweight, family fun.
Bag Size
Regulation bags are made of 2 fabric squares 6.25 X 6.25 inches with a 0.25 inch seam on all sides and filled with 2 cups of filling weighing 14-16 ounces. Smaller, non-regulation bags are available for little hands.
Bag Filling
Bags are most often filled with all-weather plastic pellets, which are made of plastic resin and can meet regulation standards. Nostalgic pitchers (players) may prefer real corn feed filling because it breaks down over time and produces dust, allowing the bag to slide more on the wood.
Other Considerations
Players thinking of breaking out their cornhole set after hours may want a set with built-in LED lights (sure to impress). If you plan on taking the cornhole set with you on beach trips, to your nephew's Bar mitzvah or a church camping trip, you may consider a set that includes a carrying case or at least boards with handles.
Last but certainly not least, there are endless unique designs on cornhole boards. From a monster's mouth to Harry Potter to classy stripes, rustic barn-board style or American flags, you can find cornhole sets that show off your epic obsessions. You can also look for something unpainted and make a project of it.
PS. If LED lights to bedazzle your cornhole set sounds sweet, but you pick a set without any, you can get LED light kits designed to level up an existing set. Here is a top option: Amazon.com : regulation cornhole set lights
Our picks: the best cornhole sets
All of the sets we chose below include everything you need to play the game – 2 boards and 8 bags (with the exception of the airmail box, which doesn't include bags).
---
Best Regulation Cornhole Set
Harrier Outdoor Cornhole Board
This new-to-market set has everything a cornhole enthusiast hopes for. It meets all professional American Cornhole Association regulations, down to the semi-gloss latex paint. It is sturdy, attractive and easily customizable. With extra steps to ensure heavy-duty construction, it's a sure step above budget options. If you are serious about cornhole, this is worth the investment. This is a true luxury, top-of-the line cornhole set.
Board construction:
-Solid wooden frame and heavy-duty joints support a wooden face
-Painted with regulation semi-gloss exterior latex paint
-Handles on the side of the frame
-Folding back legs have a crossbeam for added durability
Pros:
-Includes a carrying case
-Proper regulation paint applied, which is difficult to find in budget cornhole sets
-Meets all ACA professional standards
-The crossbeam on the folding legs adds durability where cheaper sets are more vulnerable to damage
-Wooden handles add ease for transporting the boards
-Edges and joints are reinforced with much thicker wood than is used in other models
Cons:
-Price – this is the most expensive set on this list
-Case is not as durable as advertised, usable but flimsy
-As this is a newer product to the market, it is less "tried and true" than long-popular models
---
Best Value Cornhole Set
This basic, but well-known line of regulation sized cornhole sets is a great choice for those looking for the real deal without breaking the bank. It's highly recommended on Amazon for a reason – it's a good product that satisfies customers. Go sports, if you read this blog, is the most well-respect brand for value-backyard sports games.
Board construction: 
-Chipboard with a pressboard frame
-Painted in a variety of designs
-Basic folding legs
Pros:
-Great value
-Design options are fun and sleek
-Tailgate and regulation sizes let you pick what works best for you
-Considering it is made with pressboard, it is sturdier than other sets in it's price range
-Sturdy, foldable legs
Cons:
-Carrying case is nearly useless due to poor quality zippers
-GoSports is not known for having good customer service, so if any problems arise, you cannot count on their assistance
-Although the chipboard is decent quality and unlikely to break unless abused, using chipboard instead of plywood changes the way that bags bounce
---
Best Cornhole Set with Built-In Lights
GoSports LED Light Up Cornhole Set
Enjoy cornhole under the stars or add the backyard staple to a nighttime party with this cornhole set that includes LED lights from, you guessed it, Go Sports brand. It boasts good value, excellent portability for a full-sized set on top of the extra pizzaz factor. 
Board Construction: 
-Regulation size board
-Aluminum frame holds together MDF plywood
Pros:
-LED lights are installed in the cornhole, allowing players to enjoy games at night
-Folding design makes this cornhole board easier to store and transport
-The frame includes handles for easy transportation
-Aluminum frame is not regulation but is more lightweight than wooden frames (and looks pretty sleek)
-This board fairs better when left out in the elements than all wooden boards (although it is still recommended to store it in a dry place when possible)
Cons: 
-No LED lights around the edge of the board, although this is not functionally necessary
-Requires batteries for the LED lights
-Aluminum is a tad less sturdy than wood when played on a hard surface, however it makes a very small impact on game quality as the wood is adequately weighty
---
Best Portable Cornhole Set
Backyard Champs Tailgate Aluminum Frame
This set is great value for the mobile tailgate fanatic. Fold this tailgate-sized board and stash it at the foot of the passenger's seat or carry it with ease. Along with the best portability, this set is all around reliable quality and holds it's own when it comes to backyard class. 
Board Construction:
-Folding aluminum frame and legs with MDF plywood
-Available in regulation or tailgate size
Pros:
-Foldable and relatively lightweight for easy portability
-Very nice wooden finish has a rustic and classy look
-Well-made, with great reviews on consistent product quality
-Handles for easy carrying
-Lightweight
Cons:
-Does not come with a case – this doesn't affect portability but means that it needs to be stored in a dry place
-Aluminum legs can make a loud sound when the bag lands on the board if the board is on concrete or flooring
-The wood is factory cut, and the hole placement is not precise, varying slightly from board to board
---
Best Kids Cornhole Set
EastPoint Sports Go! Gater Corn Hole
Deviating far from regulation or classic cornhole, this smaller, lighter and very affordable set is perfect for smaller kids and indoor use. Of course, the whole family can still enjoy it, as they can also enjoy the money left in their pockets. Eastpoint is a solid, recognizable brandname in this industry, and my kids personally vouch for this one.
Board Construction: 
-Boards are made of plastic, and some simple assembly is required
-A slope directs bags that made it into the cornhole to the back of the board
Pros:
-Uses regulation size and weight bags, so players can get used to throwing the real deal
-Folds up easily, with space to store bags inside a secret compartment on the bottom of each board
-Extremely lightweight and portable even compared to other folding, portable sets
-Smooth plastic finish is weather-resistant, beating wood in terms of durability when exposed to the elements
-Designed for easy bag retrieval from the back of the board
-Great for limited space indoor or outdoor use by kids
-Low-cost option
Cons:
-The small-sized boards change the game substantially and is not at all regulation
-Assembly required
-Plastic is not flawlessly durable but includes some flimsier parts (adequate for the price and superior to competition or "pop-up" varieties that have considerable bounce)
---
Best Airmail Cornhole Set
Lesser known, the "airmail box" was designed as a tool for professional cornhole pitchers to practice getting their bags in the cornhole without the board around the hole. However, no longer just for pros, this unique rendition on cornhole is a fun game of its own and is an excellent option for players who have a decent pitch but no storage space.
Board construction: 
-Rather than aboard, the airmail box is simply a small metal structure with a regulation size hole at the regulation slope
Pros:
-Extremely durable due to the simplicity of its design and 100% metal construction
-Stackable and very small compared to a cornhole board, thus very easy to transport and small enough to store in a shoebox or in a drawer
-Includes grippy rubber on the bottom to reduce skidding
-Few possible defects or problems
-Unique game to share with friends looking for a twist to the original
Cons: 
-Can be frustrating for less-skilled throwers who don't score many points with the full board
-Needs to be attached to the ground with stakes or screws; this is not suitable for temporary use indoors
---
Best Table Cornhole Set
American Cornhole Associations – Official Mini Cornhole Game
While not exactly "cornhole", this miniature set, designed for tabletop fun, is an epic way to incorporate your love of cornhole into breakfast. Players use plastic flickers to launch tiny bags across the table into a tiny cornhole board. Great for winter or quarantine fun.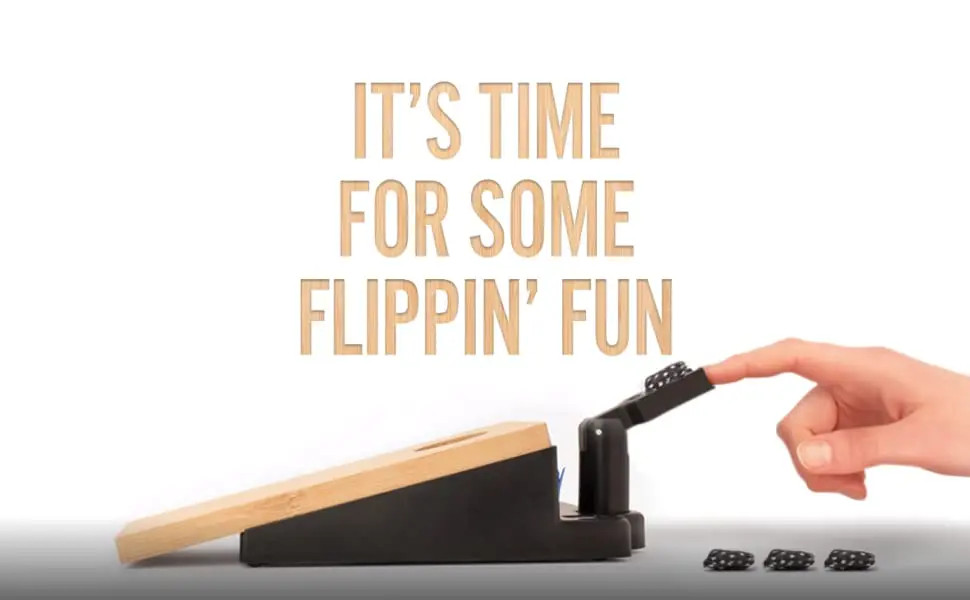 Pros: 
-Made by the American Cornhole Association itself
-Satisfaction guaranteed
-Score tracker included
-Stores away into a board-game sized box
-Good quality despite the small size
Cons: 
-Board is very slippery
-This game is intended to be silly and lighthearted, not for the serious competitor
-Takes a while to get the hang of the launching device
---
Looking for more easy tailgate/backyard games? Check out our reviews on Ladder Ball and Yard Pong.
As an Amazon Associate, I earn from qualifying purchases.