An ideal way to keep children and adults equally entertained is by getting them to play a trivia board game that is suitable for all ages.
Trivia games are the best way for families to sit down and spend some time together. The easy-to-understand rules and simple nature of trivia board games are what make it fun for people of all age groups. Whether a person is a trivia buff or not, trivia board games tend to bring out the competitive sides of people, making the game even more entertaining.
Amazon's Choice
Editor's Pick
Good Choice
Don't Miss
Hygge Games ...I should have known that! Trivia Game Green, More than 2 players
5 Second Rule Game Uncensored - Couples Romantic & Fun Adult Card Game for Date Night, Valentine's Day, Anniversary, Bachelor & Bachelorette Parties - for Ages 17+
University Games, Smart Ass, The Ultimate Party Game, for Families and Adults Ages 12+, 2 to 6 Players
The Blockbuster Game: A Movie Party Game for The Whole Family
Kids these days do not like to stay away from their screens. No amount of board games can keep them as entertained as their tablet screens. However, if you spend your money on an entertaining trivia board game that will have them on the edge of their seats, they will be hooked in no time. After checking some of the games, I have found these 10 trivia board games the most entertaining.
Top Trivia Board Games
1. Linkee, The Super-Simple, Shout-Out-Loud Trivia Game – Trivia Games For Adults
Trivia board games have always been one of the best ways to spend a Saturday night with the family. Linkee is exactly what you need to get rid of boredom. It is a really simple, shout-out game that is played in teams. The game involves cards containing letters with quiz questions. The inclusion of questions from various topics from music and sports to history makes it interesting for children and adults alike.
So basically, there are 4 quiz questions, and there is one link among all those four questions that is connecting them. The team that figures out the connecting answer shouts Linkee and wins a card that has a letter. Each team gets one guess, and if you get that wrong, you can not make a second guess. The first team to complete the word 'linkee' in cards wins the game.
This is a thought-provoking game; instead of boring quizzes, you get interesting questions that make you rack your brain. All four questions have one answer in common, making it even more interesting for both teenagers and adults. Smaller or even larger groups can play this game.
Pros
Suitable for age 12 and above
Perfect for smaller & larger groups
Comes in a sturdy box
Easy to play
Costs only $11
Cons
Cards need to be written better
Questions are not enough
This game is the perfect way to amp up your Saturday night and have the whole family sit down and enjoy it all together. The competitiveness of the game and the fact that each team gets one guess is a good way to keep all the teams on their toes.
2. PlayMonster 5 Second Rule Uncensored Game – Knowledge Games For Adults
This is the adult version of the original 5 seconds game; hence it is suitable for people above the age of 17. As the game only requires a minimum of 3 players, it makes it a perfect game for bored college students sitting in their dorms. The game comes with cards with questions written on them, a holder for cards, and a cylindrical marble timer that makes a noise when turned upside down.
So the rule of the game is that you get a card with a question or a certain category, and you have to name three things that fit that certain category perfectly. Sounds too easy, right, well here is the fun twist. You have to name the three things in only five seconds, the timer is turned upside down when the question is asked, and you have to give an answer before the marble hits the bottom.
This game's small and compact size makes it perfect to be taken up on trips and even on hikes. Just pop it in the side pocket of your bag, and off you go. Another factor that makes this trivia board game interesting for today's generation is that the questions are not limited to history or pop culture; there are bawdy questions too, hence the name 'uncensored'.
Pros
Inexpensive game
Small and compact size
Interesting questions
Clear instructions
300 questions
Millennials do not enjoy being quizzed about history and culture. This is why the creators of this game have included questions from various categories and situations according to the likes of adults. In addition to that, what makes it a good purchase is that it can be played by a minimum of 3 or a maximum of as many as possible.
3. Colorbrain: Crafty Questions and Colorful Answers – Trivia Card Games For Adults
A good way to make an evening enjoyable for both adults and children is to get a trivia board game that is entertaining for both children and adults alike. Nothing caters to this need better than Colorbrain. The game is created by Big Potato, which is one of the best trivia board game makers, so you can keep high hopes from this game. The game comes in the form of a small and lightweight box that can be carried around easily.
This is not just another boring trivia game that comes with questions that will have the audience yawning. Colorbrain comes with questions from general knowledge, the answer to which is related to different colors and their shades. Each team gets 11 hue cards, and when a question is asked, they need to put a color card down that fits the questions perfectly.
If you think this is all there is to this game, then here comes a fun twist. While playing the game, what I really enjoyed about it is that a team only wins a point when the other team gets the answer wrong. This is such a fun way to keep people engaged. The game can be played by a team of players ranging from 2 to 20.
Pros
Perfect for children and adults
2 to 20 players
Fun questions
Simple to understand
300 questions
Cons
Card lacks a picture of the answer
Want to turn the boring family vacation around? Get your hands on this trivia board game that will have both adults and children enjoying themselves thoroughly. It only costs $19.99, so you can have the entire family getting entertained at such a low price.
4. University Games Smart Ass The Ultimate Party Game – Quiz Games General Knowledge
When the title itself claims that the game is the ultimate party game, then what do you expect from such a game! When a game itself requires you to shout the answers, it sprinkles even more fun to the game. This is perfect for the noisy college and university students. The game can be played by 2 to 6 players.
Firstly, each game card has clues regarding a place, a person, or a thing. These clues are in the form of statements that can be obvious or vague. The statements can be tricky, so each player needs to rack their brains. Whichever player's turn it is rolls the dice, picks a card, and says the clues out loud, the rest of the players need to guess the answer.
Now the fun part is this game really makes you test your vocal cords because instead of sitting quietly and answering the questions, all the players start shouting the answer. The player that is the first one to answer correctly wins and moves further up the board. This trivia board game comes with 6 playing pieces and stands, 411 question cards, and 2 huge dices.
Pros
Costs only $14.99
Easy to understand
411 questions cards
Enjoyable game
Suitable for 12+
Cons
Maximum 6 players
Small parts can get lost
A perfect way to turn your boring evening around is to get a trivia board game that will have all the players guessing and shouting the answer simultaneously. It comes with clear and easy-to-understand instructions and at only $14.99, so that is another cherry on top.
5. Hasbro Gaming Trivial Pursuit Game: Classic Edition – Fun Trivia Board Games
This trivia board game is the perfect way to spend the weekend night. This board game is true to the meaning of trivia, and it is the advanced version of the original Trivia from the '80s. The game comes with a board, 6 playing pieces in the form of wedge holders, 36 small wedges, and game cards with 2400 questions written on them. The board is of good quality, so it will not get damaged after a few uses. The playing pieces have been constructed with high-grade plastic.
The nature of this game is quite easy to understand. So even if a person is playing it for the first time, they will get the hang of it in no time. Each player gets a wedge holder and rolls the dice when it's their turn. They can move in any direction according to the number of dice, and pick a card from the color they land at and answer the question on the card.
If answered correctly, the player receives a colored wedge. When all six colored wedges are collected, the said player then needs to make its way back to the center of the board and answer a final question; if answered correctly, then they win the game.
This game is a good way to keep people blissfully engaged. The part that made me enjoy the game thoroughly was that instead of focusing questions on a single category, the questions were from six different categories. These categories include arts and literature, sports, geography, history, science, and general entertainment.
Pros
Comes at an affordable price
Wide variety of questions
Good quality playing pieces
Easy to understand
Appropriate for age 16+
Pie pieces don't get stuck
Cons
Only for 6 players maximum
Choking hazard
A great way to have a fun game night is by playing a trivia game, and nothing is better than the classic edition of Trivial Pursuit. It comes with questions from different genres, which will definitely cater to the interest of each member of the group.
6. I should have known that! Trivia Game
The best way to amp up a sleepover with friends is to take out the famous trivia game 'I should have known that'. The small and compact size of the box of this game is what makes it easier for you to carry the game around. It arrives without the fuss of larger boards, so you can easily play this game anywhere. Thanks to the simpler rules, understanding the game is a piece of cake; however, winning it is the real deal!
The game comes with a deck of 110 cards with 440 questions in a sturdy box. The questions range from general knowledge to the things around you. The interesting questions of this game will have you on the edge of your seat. The hilarity of the questions is what makes this game, so fun to play. It requires a person to really rack their brain. This trivia game will be loved by a 21-year-old and a 50-year-old alike.
Here is the trick of the creators that will have players hooked to the game. Every time a player gives an incorrect answer, they lose a point. I personally found this part to be the best feature of this game, as it makes the entire game even more interesting.
Pros
Easy to understand
Multiple players
Easy questions
Inexpensive price tag
Games goes on for many hours
Cons
Answers are written on the card's back
Does not come with a board
Get your hands on this trivia board game if you are a trivia buff who is looking to have loads of fun with your friends and family. In addition to being highly entertaining, the game is relatively easy to understand even for beginners, and the best part is that it comes at an affordable price!
7. Big Potato Blockbuster Game: The Movie Board Game
This game is a treat for all the movie fanatics and trivia buffs. The game comes in a sturdy box, with cards featuring 200 classic movies! The lightweight design of the game makes it easier to be carried around and taken places. 4 to 12 people can play the game simultaneously, which is a good enough number, so take this game to the next party or a sleepover.
There are three categories in the game: quote it, act it, and the third one is word. There is also a head-to-head round which is just as exciting as it sounds. Firstly, the players need to be split into two teams. After that, in the head-to-head round, a player from each team needs to go against each other after picking a card from head to head category; they each must keep answering until the timer buzzes or someone gets the answer wrong.
The other three categories are just as fun. After winning head to head, the player then picks a card from either category, quotes it, acts it, and word. Do some action according to the category that you have chosen and make your teammates guess the movie. Each accurate guess gets the team a point, and they win a movie genre card. The first team to get all 8 genre cards wins the game.
Pros
Appropriate for 12+
Features 200 movies
Easy to learn
Comes in a box
Multiple player game
Cons
Costs more than competitors
Low-quality buzzer
If you are someone who is an old movies fan, then investing your bucks in this trivia board game will be a wise decision. It is a fun way to spend a Saturday night with the family. The nature of this game makes it perfect for both adults and teenagers. It sure will make a great gift for movie fanatics.
Buying Guide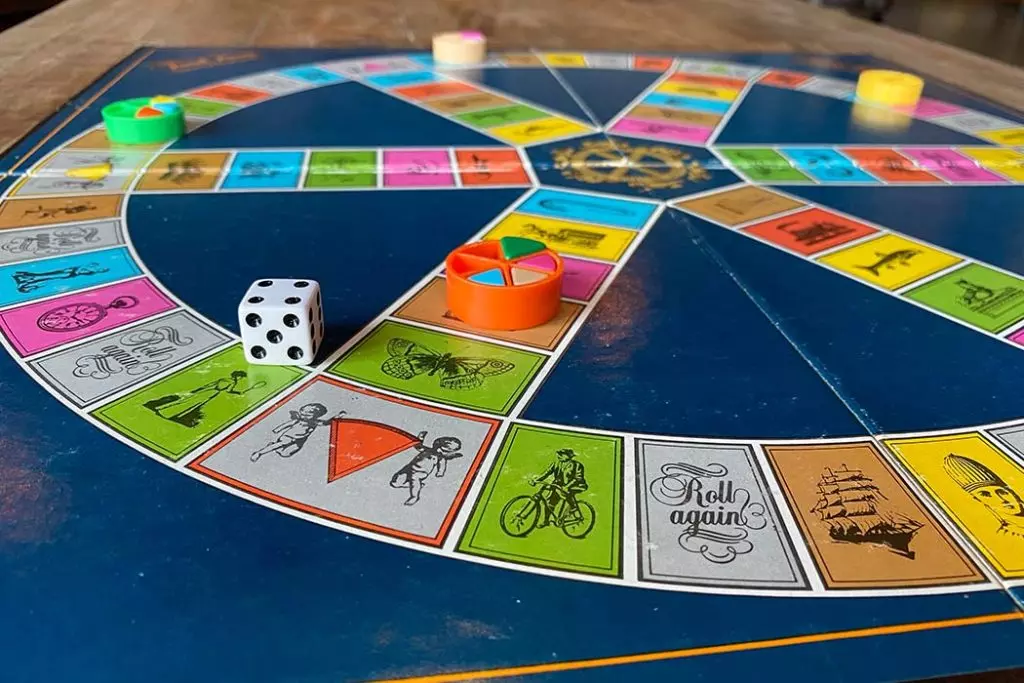 Everyone loves playing a little trivia game every now and then. It is an excellent way to spend a night in. The easy and straightforward nature of the trivia games makes them enjoyable for people of all ages. Whether it is about music, art, history, or sports, trivia board games force people to use their brains yet have loads of fun too. They are easy to learn, have simple rules, so don't be shy of taking them to the next family reunion, and have bursts of laughter.
I have shared some of the most loved trivia board games with you. Now that you know about the games, it is time for you to understand what makes a game enjoyable and a good investment. There are a few factors that I am going to share with you; these factors decide whether a trivia board game is enjoyable or a waste of money.
Material Quality
This is a crucial factor. Whatever you spend your money on should be of good quality to last a couple of years. Otherwise, you will be throwing your money down the drain if the game will only last you a few months of use. Make sure the game comes in a sturdy box; all the playing pieces are constructed from high-grade material instead of cheap plastic that will break after a couple of uses. Another thing to look out for is that the quality of the trivia cards should be good too. They should not rip after a few uses.
Number Of Players
This is a crucial factor that you need to consider before you buy a trivia board game. Every trivia game allows a different number of players; some are suitable for 4 players, while some allow 20 players to be involved in the game at the same time. In addition to that, if you are getting the game for a specific occasion, figure out how many players you are looking for from the game. It is best if you get your hands on a game that is perfect for both smaller and larger groups. That way, its usage will not be limited.
Age Appropriate
Every game is suitable for a specific age group. Before you spend your precious money on a trivia game, make sure it is suitable for the age group that you are buying it for. You can not have children playing adult games or vice versa. Check the age level of a game before purchasing it.
Ease In Playing
If a game comes with a gazillion tricky rules, it will not be as fun for everyone as one that comes with minimal rules. Rules are a good way to keep a game organized. However, if there are ten different rules in one game, they will suck the fun out of it and will have people struggling to remember the rules half of the time during the game. Make sure the game you are going for comes with easy rules, and the overall game is uncomplicated to understand, especially for first-timers.
Price
There are many games available in the market in different price ranges. Some come at $10, and some cost more than $40. However, as any trivia board game is a card game that comes without any special tools or gadgets, it should not cost more than $20 to $25. Hence, if a game comes at a price tag of $50, no matter how good it claims to be, try not to spend your bucks on it. You can find many others in a low price range that are just as entertaining, if not more.
Portable Size
The size and weight of a game determine its usage, believe it or not. If a trivia board game comes with a large and heavy board, taking it up on trips will be out of the question. Even taking it out to play in the living room will be quite an annoyance. Always make sure that the trivia board game you are opting for comes in a small, lightweight, and portable size so that you can take it to any place easily and have fun playing it.
Conclusion
Spending your money on an enjoyable trivia board game is a good way to amp up a birthday party or a family dinner. These 7 trivia board games will make sure you are not stuck with another dull evening with your friends or family. Here are my top three recommendations if you have not decided on a game till now.
Linkee, The Super-Simple, Shout-Out-Loud Trivia Game a multiplayer game that is perfect for groups of different sizes.
Colorbrain: Crafty Questions and Colorful Answers an easy-to-understand game that is suitable for children and adults.
I should have known that! Trivia Game comes at an affordable price and allows multiple players.
Check out some other picks from Amazon also:
Sale
Wit's End Board Game, A Unique and Challenging Trivia Game for Adults and Family, Ages 16 and up
Wit's End is a challenging trivia and brain-teasing game that will test your wits as well as you knowledge.
Answer questions in four mind-challenging categories as you work your way to the top of the board. Think laterally and wrap your mind around a TEASER, deduce the ODD-1-OUT, figure out the SEQUENCE, or try your luck in the WILD CARD category. Experience the excitement in pursuit of the winning answer.
The question cards are packed with trivia, riddles and brain teasers on history, current affairs, popular culture, geography, science, arts and more. This game that will engage friends and family in a wide array of subjects.
So think hard and have fun while being driven to your Wit's End! Award winning classic party and trivia game for adults and family! For 2-6 players/teams. Ages 16 and up.
Click the Wit's End video to play a round of the game. Are you ready for the challenge? Give it you best!
Totally Trivia - The Complete Quiz Game by Goliath Green, 5"
Quiz your family and friends and find out who the real know-it-all is
Includes 900 questions covering a variety of topics
Categories include Past & Present, Rock & Pop, TV & Film and more!
Easy to play with a few or a large group
For 2 or more players, ages 14 and up
Sale
Trivial Pursuit Horror Ultimate Edition | Horror Trivia Game Featuring 1800 Questions from Classic Horror Films & Books | Collectible Trivia Board Game for Fans of Horror Movies
Get ready to scream your head off because you can run, you can hide, but you can never escape Trivial Pursuit Horror Ultimate Edition featuring 1800 questions spanning all horror entertainment platforms – horror movies, television shows, and books
Answer questions from across 6 categories of horror - Gore & Disturbing, Psychological, Killer, Monster, Paranormal, and Comedy
Classic Trivial Pursuit game board features a horror theme with horror-inspired movers including Monster Hand, Doll Head, Straitjacket, Goat Head, Cleaver in Brain, and Table Saw
Includes 1 Game Board, 300 Cards, 6 Custom Movers, 1 Die, 36 Wedges, and 1 Rulebook
2+ Players | Ages 17+ | 60+ Min Play Time
Neddy Games Conspiracy Theory Trivia Board Game - 3rd Edition
Conspiracy Theory Trivia Board Game tests your knowledge of the world of Internet conspiracies
Answer questions to collect conspiracy cards to win, but be careful of Cover-Ups
A QR code is printed on every conspiracy card if you want more details (like when the ghost of JFK revealed that all dolphins are aliens)
The perfect party game for 2 to 6 players (or teams) ages 14 and up
Contains 250 Conspiracy cards and 25 Cover Up cards - Check out our new Expansion Pack for more Conspiracies
Sale
Trekking The National Parks: Trivia | National Parks Trivia Game for Adults and Kids | Giftable Trivia Game for Family Game Night
From the Creators of the Award-Winning National Parks Games: This trivia game builds on the love of national parks from the best-selling game, Trekking the National Parks.
A Trivia Game for All! Specially designed so anyone can play. Even if you know nothing about the national parks, you can play, learn, and win
The Perfect Gift: Give a meaningful national parks gift. It's the perfect present for anyone who loves nature, the outdoors, and our beautiful public lands.
600+ Questions: Challenge your family and friends to a clever game of guesstimation with both text and image questions.
We are proud to be a small, independent business, founded by two people's mutual love of the national parks. We always donate a portion of all proceeds back to nonprofits making a difference around the world.
Sale
Big Potato MTV Game, The Music Throwback Party Quiz Board Game, for Adults and Teens Ages 14 and up
I WANT MY MTV Switch over to a music party game for adults and teens that's filled with all the biggest MTV hits from the '80s, '90s and '00s
FOR ANYONE WHO'S EVER HEARD A SONG: In the head to head round two players face off in a quick-fire MTV Challenge category battle naming song titles
TRIPLE CHARADES JEOPARDY Afterwards, players have 30 seconds to describe in one word, speak the lyrics and perform songs from three famous bands for their team to guess
TOTAL REQUEST LIVE The first team to collect an artist from all eight cassette categories wins the game Requires 2 x AAA batteries (not included)
EASY TO LEARN, QUICK TO PLAY A new party board game for 2020 made specially for adults of the MTV generation 4+ Players, ages 13 and up
Hasbro Gaming Trivial Pursuit: Friends The TV Series Edition Party Game; 600 Trivia Questions for Tweens and Teens Ages 12 and Up (Amazon Exclusive)
INSPIRED BY FRIENDS TV SERIES: Players can test their knowledge of the Friends television series, with this trivia game featuring 600 questions based on some favorite Friends television series moments
EXCITING PARTY GAME: Love trivia. Get friends together and amp up the party by breaking out Trivial Pursuit: Friends The TV Series Edition game for ages 12 and up
FRIENDS TV SHOW TRIVIA: Questions in this Trivial Pursuit game are based on lots of favorite Friends' moments, from Ross and Rachel's Vegas wedding to the classic Holiday Armadillo
COMPACT AND PORTABLE: The Trivial Pursuit: Friends The TV Series game has no gameboard. It includes everything players need, packed in a handy wedge-shaped case that's easy to take on the go
MAKES A FUN GIFT: Celebrate the Friends TV Series 25th Anniversary with this exciting edition of the Trivial Pursuit game. It makes a great gift for fans of the Friends television series as well as trivia buffs
Half Truth Game - The Trivia Game That Makes You Feel Smart - Fun Board Game for Events & Parties - Best Card Deck Games for Teens, Young Adults, and Families - by Ken Jennings & Richard Garfield
TRIVIA YOUR FRIENDS WILL LOVE - Whether you're looking for party games, group activities, or just love trivia, the Half Truth board game is an exciting way to challenge your friends and family to see who is the smartest.
PERFECTLY CHALLENGING - With only 6 possibilities, players place their bets between three right and three wrong answers trying to guess correctly. This board game is a great way to show off how much you know.
FLEX YOUR SMARTS - One of the most unique trivia games available, Half Truth comes with 500 trivia question cards and a wide selection of categories to show your friends and family how much you know and how much they don't!
BRAINIACS OF ALL AGES - If you're looking for board games for teens, young adults, and families than Half Truth is perfect for you. Our game is perfect for ages 12 and up.
GET THE PARTY STARTED - Never have a boring party, sleepover, or event again! Break open Half Truth, one of the most fun party games around, and get the party started. The crowd will cheer with enthusiasm as the game heats up but remember, there can only be one winner!
Sale
PlayMonster Brain Fart Party Game -- Think Fast -- Fun Game Night -- players : 4+ , Ages 14+
ROLL GIANT CUBES, tap the brain timer to get your letter and start the countdown and go!
USE YOUR LETTER--Take turns naming things in the categories shown, that start with the letter displayed!
BE CREATIVE--If the letter is M, you could answer "merlot" for the stress reliever cube, or "My mom" for drama Queens, or "Magenta" for color…get it?!
LOTS OF POSSIBILITIES--With 54 categories and 21 letters, game play is always different!
Adults ages 14+
As an Amazon Associate, I earn from qualifying purchases.